Joannes Vermorel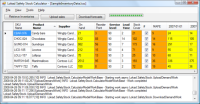 We have just released the first beta of Lokad Safety Stock Calculator (LSSC). This application is best suited for retailers and manufacturers who need to optimize their inventory levels. As announced previously, LSSC provides report points optimization and stock coverage analysis.
Compared to Lokad Desktop Sales Forecasting, LSSC comes as significant upgrade
True business-oriented report that includes stocks on hand, suppliers, lead times, service levels … in addition to the raw sales forecasts.
Incremental inventory data retrieval and incremental sales data upload toward Lokad. Performances get greatly improved for recurrent usage.
Build-in customization framework. LSSC comes bundled with LSSC Editor, a GUI tool that let you design custom inventory connectors for LSSC.
As LSSC gets out of beta, Lokad Desktop Sales Forecasting will be put in maintenance mode, since this application brings no additional benefits compared to LSSC.