Lokad uses advanced forecasting methods in order to produce the most accurate forecasts possible, and while that accuracy is greater than with classic methods, many large reports can't be computed instantly in real time. Executing multiple operations in a specific order and retrieving data from other apps can sometimes be time consuming, therefore, Lokad now provides an automation feature which allows the full control of all the operations needed to produce the numbers your company needs.
From simple scheduling to fully controlled sequences
Since being able to schedule operations is a must-have feature in advanced analytics, Lokad already provided this option in the project configuration, but it was quite limited and required an account on a third party scheduling service. Therefore, we have now launched a native automation feature which offers both orchestration and scheduling possibilities.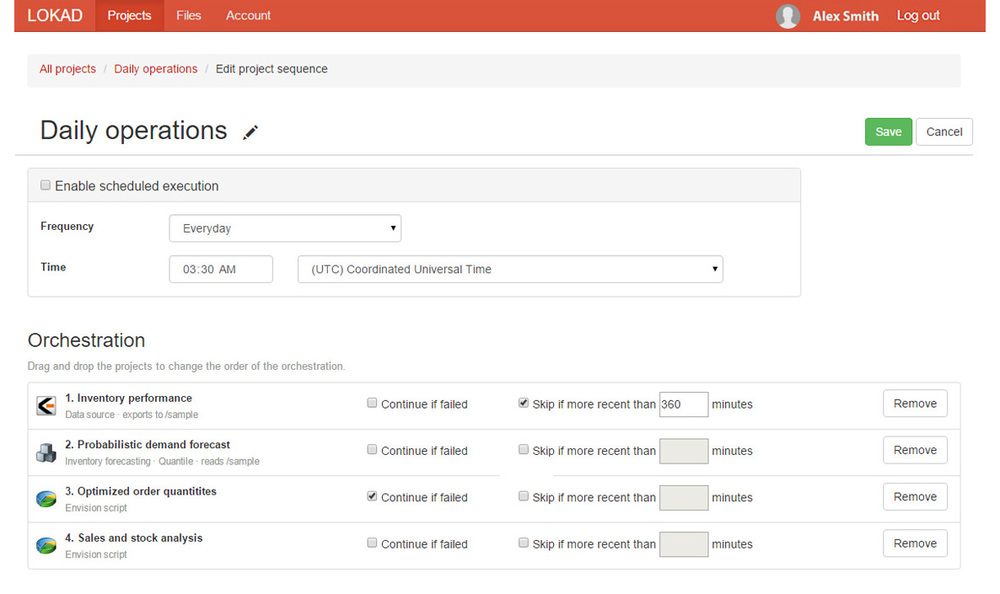 Lokad project orchestration showing multiple projects scheduled to run at 0330 UTC daily. The first step (data import) will be skipped if it has been run within the past 6 hours, and if the third step fails the sequence will continue.
Orchestration and scheduling - the two pillars of advanced analytics
With the new automation feature, you can define a specific order for running projects. In this way, the updated data from previous runs can be applied to other projects, as the run will only start when the previous one is completed. The "skip if more recent" option is useful when dealing with long processes. For example, you can set the sequence to auto-skip one or more steps if they have already been run in the last 12 hours.
Scheduling operations allows you to have your reports ready when your company needs them - whether it is on a daily or weekly basis. Some operations require a large amount of data and their execution can take a while. Therefore, Lokad also allows you to set a specific time to start running the sequences. We particularly suggest running projects during the night. In this way you will always have your numbers ready in the morning, without waiting.