Joannes Vermorel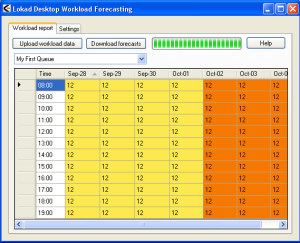 We are proud to announce that we have released the first version of Desktop Workload Forecasting. This application is primarily oriented toward call center managers.
In a nutshell, optimizing staffing levels is a cornerstone of call center management; and forecasting future workloads (i.e. forecasting inbound call volume) is the key to get the right amount of staff at the right time.
This application is somehow similar to the Desktop Sales Forecasting. The two applications share a similar architecture and look & feel. Yet, workload forecasting needs shorter periods, and Desktop Workload Forecasting supports hour, half-hour and quarter-hour forecasts.
Desktop Workload Forecasting can retrieve historical inbound call volumes from VICIDIAL, a popular client for Asterisk open-source PBX. The application has been designed to be easily extended to support other applications as well. Do not hesitate to contact us if you want your favorite call center application to be supported by Lokad.