Joannes Vermorel
Retail marketers have long tried to approximate the idea of one-to-one marketing. In an ideal world, marketers would deliver to the right customer, at the right time, the most relevant communication.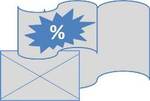 Digital technologies have greatly increased the number of 1-to-1 communication channels. Mailings are individualized at print, check-out coupons are issued in real time, and websites, online shopping portals and smartphone apps create new touch points with the customers. Yet, ** the challenge of determining the 'right' communication for the individual client remains huge.**
Retail marketing today is constrained by customer segmentation
Consumer goods companies and retailers alike use market and customer segmentations to determine consumer needs, product preferences and usage occasions in order to design and target their marketing campaigns. Unfortunately for retailers the challenge is huge since they are serving a very wide range of customer groups accross a huge product portfolio, and a rather dynamic market with often pronounced local differences adds to the complexity.
Strategy consultants McKinsey suggests that segmentation efforts will only be practicable and sustainable if the number of segments is below 10. No wonder marketers struggle to bridge the gap between the needs of millions of customers and a single digit number of customer segments.
Targeting: Big Data technologies replace customer segmentation with individual client analysis

Big Data technology will bring marketers a big step closer to the ideal of true 1-to-1 communication, where instead of fitting customers into a campaign, the marketing effort starts with the individual client and her needs.
The core idea is rather intuitive. By looking at a customer's basket (at check out) or better purchase history (through loyalty card data) !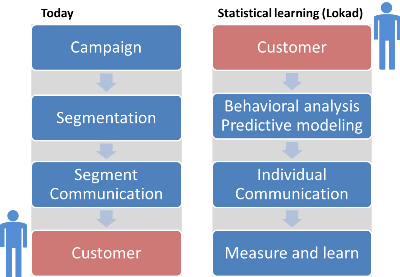 in relation to the baskets and purchase histories of millions of other customers, 'similar' customer profiles can be identified and used to 'learn' which other products and services will appeal to the customer at hand.
The basis for this advanced behavioral analysis is point-of-sale (receipt) data, plus loyalty card data if available.
Near real time capability of such systems today can be met without high cost through smart architecture that allows an efficient storage and rapid retrieval of huge amounts of data. In a recent whitepaper, we have shown that all receipt data of even the largest retail networks can be processed on a smartphone.
Measurement: Client history and basket analysis allow conversion, uplift and cannibalization measurement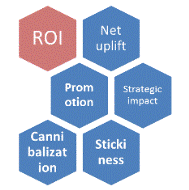 Quantifying the ROI of a marketing initiative is key, yet very complex in retail, given that the impact of a promotion or voucher often not only impacts the promoted product, but the wider product portfolio. Substitution, cannibalization and long term impact all play an important role for the ROI.
Marketers today are deprived of a direct feedback loop on their initiatives, and need to operate largely 'one eyed'. Big data technologies allow to solve this problem by analyzing a client's purchase history and basket in relation to past and ongoing promotions and vouchers.
Performance: A closed feedback loop creates a learning system
Just as marketers crave transparency on conversion and marketing ROI, recommendation engines will vastly improve if they directly can measure the quality of applied behavioral analytics. Through iterations the algorithm will improve, or 'learn'. The statistical learning theory is an invaluable ingredient here.

The prerequisite are clearly defined success/failure characteristics (markers) that can be tracked automatically in order to provide the system with the direct feedback it requires. Luckily, vouchers that are used, promotions that are taken up, events that are attended, or other forms of client action that can be unmistakably linked to the marketing communication and automatically measured, and therefore serve well for such a purpose.
Big Data is setting the stage
Big Data has set the stage for what we believe will be fundamental improvements in the way marketing can target, assess, optimize and ultimately convert their campaigns into profits for the company.
Furthermore, the technology barriers for innovation in retail have never been lower, and we believe first movers will create competitive pressures that will transform the industry. Exciting times ahead!