Joannes Vermorel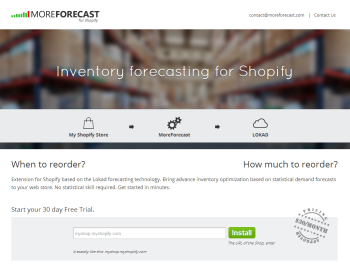 Shopify is one of the great online web store solutions available for small merchants. Shopify is distinctly rooted in a SaaS (software as a service) business model where not only the online store itself is SaaS, but all the add-ons provided by the community are also SaaS.
Today, we are very happy to announce the general availability of MoreForecast.com, an app dedicated to Shopify merchants, and intended as a bridge between Salescast and Shopify. Kudos to the Didisoft team for the development of MoreForecast.
The app supports the automated and scheduled data transfer from Shopify toward Salescast. With MoreForecast, your Salescast reports are always based on the most recent data available.