Joannes Vermorel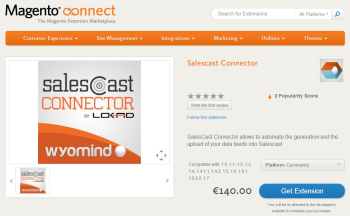 The Salescast Connector on Magento Connect
Optimizing inventory is not just for brick & mortar commerce, it's a cornerstone of online commerce as well.  
As a matter of fact, we have been receiving many integration requests between Salecast, our inventory optimization webapp and Magento - one of the most (if not the most) popular ecommerce software of the market.
While exporting data from Magento into the format expected by Salescast is not overly complicated, it's not trivial either, and as it requires some SQL skills.
Thus, we decided to move with Wyomind, a company that specializes in Magento extensions. As of today, Wyomind has just released its Salescast Connector. This extension takes care of
extracting the relevant data from Magento
formatting the data into the Salescast format
uploading (via FTP) the data to Salescast
Even better, the Salescast Connector schedules daily data exports; that way, your reports from Salescast are always up to date whenever you need them.
Concerning the pricing, Salescast comes with an Express Plan, which is free and does not expire. This plan is compatible with the Wyomind extension, and as our Express Plan, covers up to 10,000 items, it's sufficient for the vast majority of the smaller merchants. The Salescast Connector itself starts at 140€ as a one-time license fee.