Joannes Vermorel
Inventory optimization is critical for eCommerce. In particular, we are already providing native support for Magento users through our Safety Stock Calculator.
Yet, a couple of people told us that desktop apps weren't always that practical. Indeed, since your store is online, why should it be different for your sales analytics?
Lately, we have been doing a bit of teamwork with the nice folks at youcalc. youcalc delivers on-demand analytics with a quite a few handy apps such as:
eBay sales monitor
Key metrics change in Google Analytics
MailChimp email marketing monitoring
Thus, thanks to Rasmus Madsen (Founder at youcalc) and Martin Albertsen (youcalc), we have drafted a mock app that report stock covers: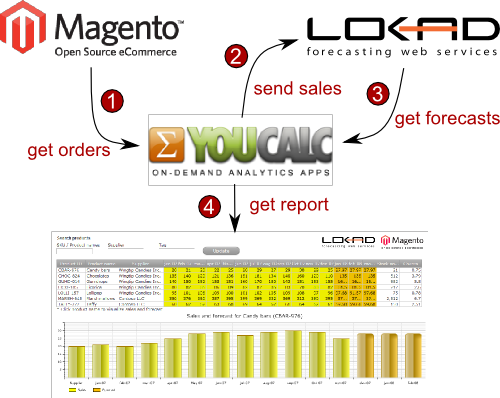 Just check the live demo (1-click, no login, no registration).
At this point, both Lokad and youcalc are looking for volunteers among Magento merchants. Typically, we need people that would be willing to give a try to the real thing and spend a bit of time to tell us what they think about our product. This process will not require any technical skill or development efforts.
As token of thanks, volunteers will be
mentioned on the blogs of Lokad and youcalc when the app gets released.
granted 6-months of free access to Lokad and to the new app of youcalc.
This offer is limited to June 30th, 2009. In order to apply just send us an email to contact@lokad.com with Magento volunteer in the message title, and the URL of your Magento store in the body. If everything goes well, the final app will probably be released next fall, just in time to optimize your inventory right before Christmas 2009.