Joannes Vermorel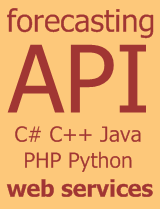 The version 2.0 of our Software Development Kit (SDK) for Microsoft .NET is now available. This SDK helps developers to enhance their .NET applications providing with the forecasting services offered by Lokad.
The first version of the SDK focused on providing a simple and efficient way to communicate with Lokad Forecasting API without worrying about SOAP, web services or networking problems.
Second release builds up on this foundation and starts adding components and samples to build the actual client applications for your customers. These are the highlights of this version:
Full source code of Lokad Forecasting Add-in for Microsoft Excel 2007 is included!
MVC elements for adding synchronization and connection editing capabilities into your applications targeting Lokad services.
Project has been migrated from SourceForge to a Google Code project that has a friendlier UI.