Joannes Vermorel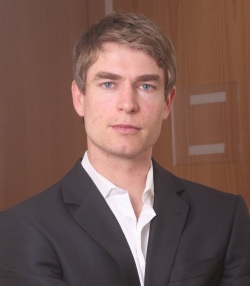 We are pleased to announce the appointment of Matthias Steinberg to the role of CEO of Lokad. He will join founder Joannes Vermorel at the helm of the company this month.
From Lokad's early beginnings, Matthias has been involved as advisor and angel investor in the development of the firm. He joins us from Summit Partners, a leading growth capital and technology investment firm, where he was responsible for software investments in Europe.
His background includes mechanical engineering with Airbus Industries (Toulouse) and strategy consulting with The Boston Consulting Group (Berlin). He holds a Masters of Engineering from the RWTH Aachen and an MBA from INSEAD.
Interview with Matthias Steinberg, CEO of Lokad
Q. Why did you decide to join Lokad?
In my prior role as growth investor, I have been focused on software on demand and cloud computing and learned the opportunities and challenges associated with these game changing technologies. At the same time I have been close to Lokad from the very start as advisor and angel investor and have witnessed the rapid development of Lokad's technology, market traction and team.
Lokad is addressing a large market opportunity with a distinctive technology leveraging the advantages of both Software on Demand  (or 'SaaS') and cloud computing to provide a level of performance at a level of cost that has not been possible before. 'On demand' means no upfront investments, no licensing fees, no installation, integration, and training requirement and a pure usage based pricing; cloud computing enables a new dimension in forecasting performance by giving access to an immense amount of computing power.
When software on demand does not only reduce cost, resource requirements and complexity, but also enables a new level of performance and opens up new market segments as in the case of Lokad, you have what is often called a 'killer application'. The 2010 Microsoft Windows Azure Worldwide Partner Award is testament to the strength of technology and team, and I am very excited to join.
Q. What will you be focused on in 2011?
Lokad's demand forecasting technology is now at a maturity level where it successfully addresses the needs of two market segments:
First, large to very large accounts such as retailers with several thousand points of sale. Here, we often either replace rudimentary forecasting practices or technologies, or we sit on top of existing forecasting solutions which are often part of larger ERP systems to significantly enhance their forecasting capabilities and accuracy.
Second, SMEs that previously have not had the resources to access expensive 'best of breed' forecasting technology and typically worked with excel or simple desktop programs. Lokad's Salescast gives access to market leading forecasting accuracy while taking away all the hassle, complexity and often frustration with the unsatisfactory results of the status quo.
While we continue our development activities, I will be heavily focused on the commercialization of Salescast. We have a lot of interest from large retail and believe there is a tremendous opportunity in eCommerce. Furthermore, it is my goal to further internationalize our activities with the main target markets being the US, UK, Germany and Russia.
Q. What did you do professionally prior to joining Lokad?
Several years in growth capital technology investing have been preceded by work in strategy consulting with BCG and in the engineering department of Airbus France. Particularly the last years as an investor have given me the opportunity to get to know hundreds of technology companies and work with their founders, which has crystallized my idea of a promising company in terms of business model, market opportunity, technology and team. It also given me a first hand impression of the challenges faced by growing companies and has grown my own aspirations to participate in building a technology company.
Interview with Joannes Vermorel, Founder of Lokad
Q. What made you bring on a new CEO at this point?
Lokad's development has accelerated constantly in the last years, and in 2010 we have reached a few significant milestones both in terms of technology and clients. We are now working with very large retailers and provide to SMEs such as eCommerce retailers what we believe to be an extremely powerful and simple solution for their forecasting needs, both of which represent exciting and large market opportunities. Furthermore, our technology is fully developed for the cloud which provides an immense scalability and performance already today, but also opens up exciting possibilities for further development.
Bringing on Matthias will allow us to further accelerate the growth and the internationalization of Lokad. He brings to the team what I believe to be a strong combination of commercial acumen, technical understanding and experience with growing companies which make him very valuable for us and I am extremely excited to have him on board. 
Q. How will that affect your responsibilities going forward?
Matthias' arrival will allow me to devote more of my time to the technology, while he will focus on sales, marketing and daily operations. We have an ambitious development roadmap which I am keen to execute together with my team of developers.
---
Reader Comments (1)
About the Robotics entrepreneur did you mean Paul Deuchar? He's very famous over here and especially in the industrial sector, if you plan business with him don't hesitate you found the right man 7 years ago | Australianangel